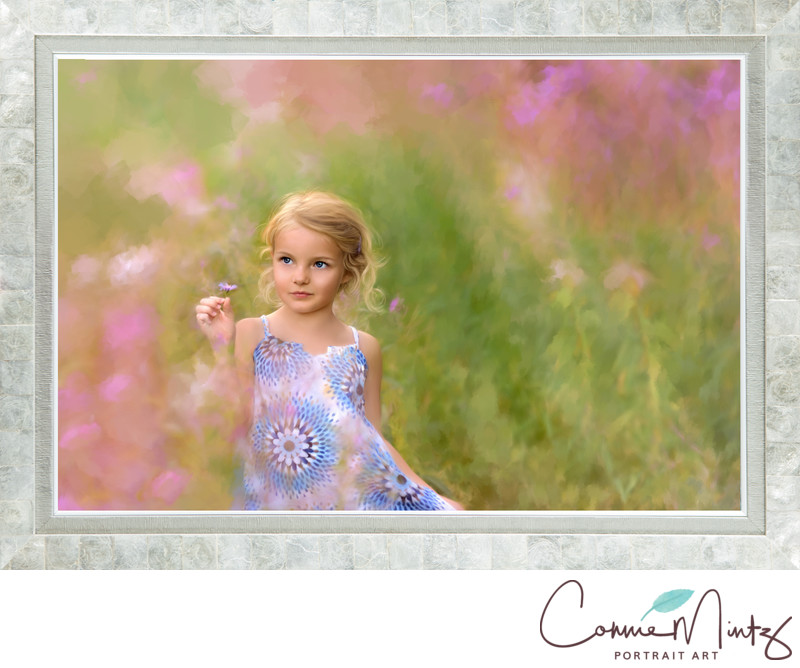 Family & Children
Your family is the most important aspect of your life and having beautiful portraits of the people you love displayed in your home is priceless. Our goal is to capture your family at different stages of life, in your home or in a beautiful outdoor setting with gorgeous light, and then create a timeless piece of art, that will forever remind you of the memories you have shared.

I would love to work with you in creating stunning family portraits. I travel on location in Portland, Oregon, Vancouver, Washington and surrounding area, and I am available for destination portrait sessions.
With a unique blend of dramatic artistry, your portraits
will become family heirlooms to be handed down for generations.
Custom Portraiture
I welcome all of my perspective clients to visit my studio for a consultation to meet my assistant and I, view our products and ask in person questions before booking your session.
We strive to create portraits that you and your family will treasure, and be proud to display in your home. We specialize in custom portraits, including wall displays, and coffee table albums. We are a full service studio and can assist you – from laying out a design on the walls of your home, to framing and hanging your images. There is no minimum purchase as we focus on creating custom collections for you to treasure.
Setting
While my studio is a great place for newborns and the individual portrait of a child, there is no better place than outdoors for family sessions. While some families want to display their home to preserve memories of their growing family, others choose locations where the backdrop is nature in all its beauty. My background as an award-winning landscape photographer gives me the artistic vision and skills to capture portraits in stunning settings. I am passionate about the Pacific NW and would love to put you in these beautiful landscapes! I can arrange to travel for on location in the Columbia Gorge, the Oregon and Washington seaside and most outdoor locations.
Family sessions are typically held outdoors, in the early evening golden hour, or first light of dawn. There are plenty of locations that would make a great backdrop for your family's portraits – woodland areas, a park, an urban neighborhood, a friend's farm, even an old junkyard! Since every child and family is unique, I am happy to help you choose a location that suits your family's personality.
The Experience
People look their best when they are relaxed, comfortable, and photographed in amazing light - this is what I aim to provide whether that's in my studio, out in a gorgeous field, in your home or at a location of your choice. Are you up for something different? Are you ready to capture your family in a unique and artistic way? If your answer is yes, then contact me and we can discuss ideas for your family portraits.
We customize our photography to fit your family. How do we do that? Through 3 simple steps:
1). We offer an in-person consultation to plan your session.

With your input, we plan for locations, clothing, and the best time that fits with everyone's schedules to assure we get gorgeous light. We work hard to put together a portrait plan that captures your family and showcases its unique personality and emotion
We offer advice on clothing and style. We have an in depth "Getting Ready Guide", that assists with styling your session and we also have an informative PINTEREST BOARD with some great ideas..
Hearing more about what specifically you feel sensitive about with your appearance helps us know how to use our skills and talents to help you look your best. Our goal is to not only capture how you look, but how you feel!
2). Let's make some gorgeous images!
We prepared all the details at the planning session and most importantly my goal is for you and your family to feel comfortable with our team. We want the family portrait session to have a sense of fun and relaxation. By getting to know you before the session, everyone will have more fun!
Our photography is relationship based. We focus on the intimate and unique relationships between 2 or more people. We keep backgrounds and props very simple; creating classic, timeless images that showcase your child or family. We will do poses but we also play games and have fun in order to capture natural expressions in addition to classic poses.
3). View and Order Your Portraits
After the sesion, we will help you sort through all your wonderful family images. In our studio, or in your home, we will use our state-of-the-art projection system to show you the images large so you can see everyone's expressions, compare similar images and preview what they will look like at various sizes in your home or office.
This one-on-one service makes it easy to pick your favorite images. You will be able to compare images side by side and see what your picks look like at various sizes.
For a Complimentary Design Consultation
and Portrait Session please complete the Guest Form:
Connie Mintz Photography is conveniently located west of the I-5 freeway in Vancouver, WA, serving Portland, Oregon, Southwest Washington and surrounding areas.