Maternity
You are given nine months to truly appreciate the miracle of life! Being pregnant is nine months of emotions- excitement, nervousness and just true happiness once you finally get to meet your newborn baby. Maternity photography captures the period of time while a woman is pregnant. To some, the idea of maternity images is as exciting as the idea of having the baby itself as to while you are captivated by the glow and radiance of being pregnant. For others, it is a questionable one as your body has transformed to a place you might not have imagined it ever going. However you may feel, you will want to remember this time through beautiful portraits. And while it may be your first or your third pregnancy, each will deliver you an experience that is unique and deserves to be captured.
For your session, Connie provides you with the option of shooting in a private location such as your home or our studio, where you can bare as much or as little of your belly (and body) that you care to. You may also opt for a less intimate session and select outfits and a location that has a meaning to you and will provide a wonderful backdrop for the "before" pages in your baby book.
Our studio has a full range of maternity gowns, dresses, skirts, drapes,
and fabrics to choose from for your session, or if you prefer,
you are welcome to bring your own clothing.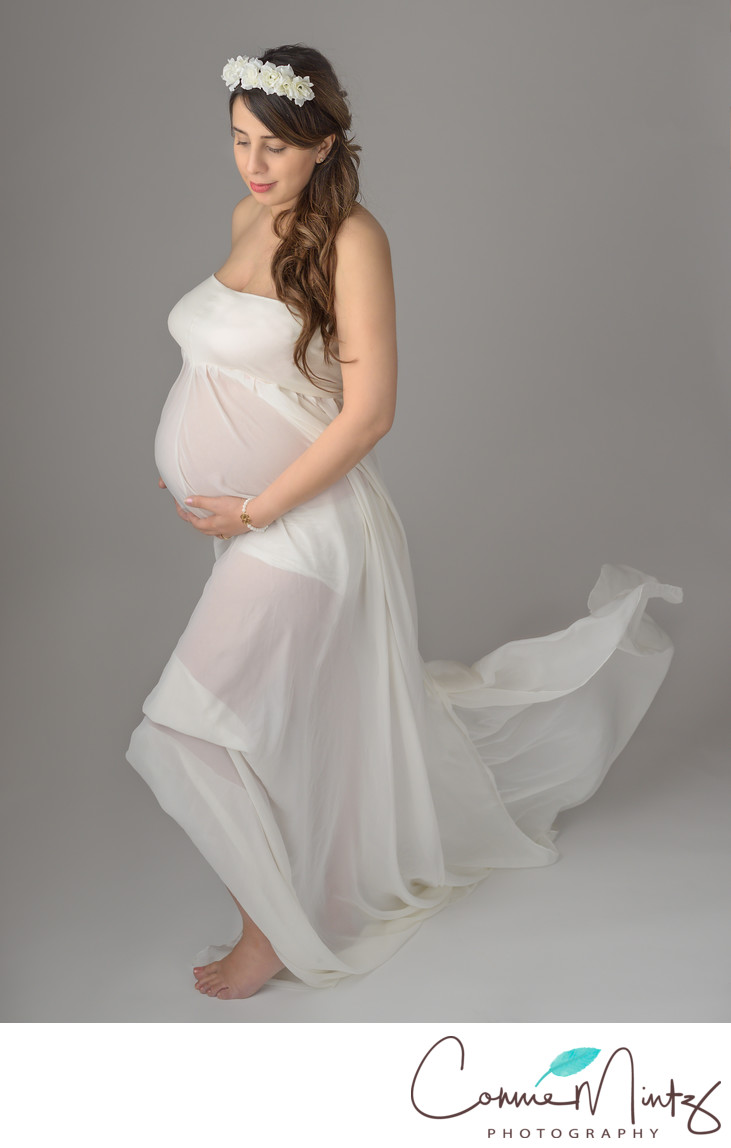 At this time, maternity sessions are only offered with a newborn session.
Please inquire to reserve a custom consultation.
Scheduling
You will want to schedule a time between 30 and 35 weeks when you are showing enough of a full belly, but not quite ready to deliver. Scheduling in the early weeks ensures that you will have a bit more mobility for poses. Sessions include partners and any children (the two or four legged variety), as this is an exciting time for your entire family. Connie will capture both individual and family images to tell your entire story.

Because the session is about showcasing your beauty, we suggest to treat it as a gift to yourself, by scheduling a hair and makeup appointment prior to the session. It will pull together your look almost as much as selecting the perfect outfit.
Portrait Guide
Click on the guide to enlarge for information and pricing:



For a Complimentary Design Consultation
and Portrait Session please complete the Guest Form:
Connie Mintz Photography is conveniently located west of the I-5 freeway in Vancouver, WA, serving Portland, Oregon, Southwest Washington and surrounding areas.