What To Wear and Studio Guidelines


What to Wear
We encourage cocktail to formal attire, which photographs best. It is slimming, and creates a stunning piece of artwork we know you will love. We encourage families to look sophisticated and elegant, as if you are attending a wedding or fine restaurant. We don't hear families say they wished they had dressed down, but we do hear families say they wish they had dressed up more. We of course want you to wear what represents you and your family.
We always recommend timeless clothing, not trendy clothing that will look silly in a year or so. One of our greatest recommendations is to avoid patterns, as they distract from faces and add volume. This is one of the most important things to remember.
For Casual:
If you absolutely must be casual, the following guidelines need to be followed for it to be a success: You should still be in something dark, solid and fitted; not baggy and busy. Wear clean shoes, not sneakers, especially with colors. Do not wear white sox or white sneakers with dark clothes.
Also, choose a style that will look acceptable 20 years down the line, as many people make the mistake of wearing trendy clothing only to regret it when fashions change. Remember it's your face and eyes that should draw the attention in the portrait not your clothing.
For men:
We recommend a suit coat or a nice sweater over a dress shirt. He should wear a pair of dressy shoes that matches the color of his belt.
For women:
We recommend dark or Jewel-toned dress or outfits are the most flattering. Dark colors add shadows in the areas we appreciate shadow. We always recommend that women stay away from pattern especially, as we usually hear women talk about it when they don't. Fitted clothing is best. Avoid loose swaying
For children:
We recommend the same concept as the parents. Dress little girls in dresses. Cream is a common color for them, as it is bright and draws attention to them. Little boys look perfect in textured sweaters, little suits, bow ties, vests and such.
No need to have everyone wearing the same outfit, but simply coordinate as a family. Choosing 2-3 colors helps to coordinate. Again, we recommend black, grey, navy, and rich jewel tones. Black and white is one of our most popular color combinations.
Black and White:
Black and white portraits are soulful and show emotion. If you want to shoot fashion you shoot in color, if you want to shoot emotion shoot in black and white. For black and white portraits, the clothing simply needs to be solid and medium to dark (navy, charcoal gray, forest green, burgundy), mid to long sleeves, easy to move in and minimal jewelry.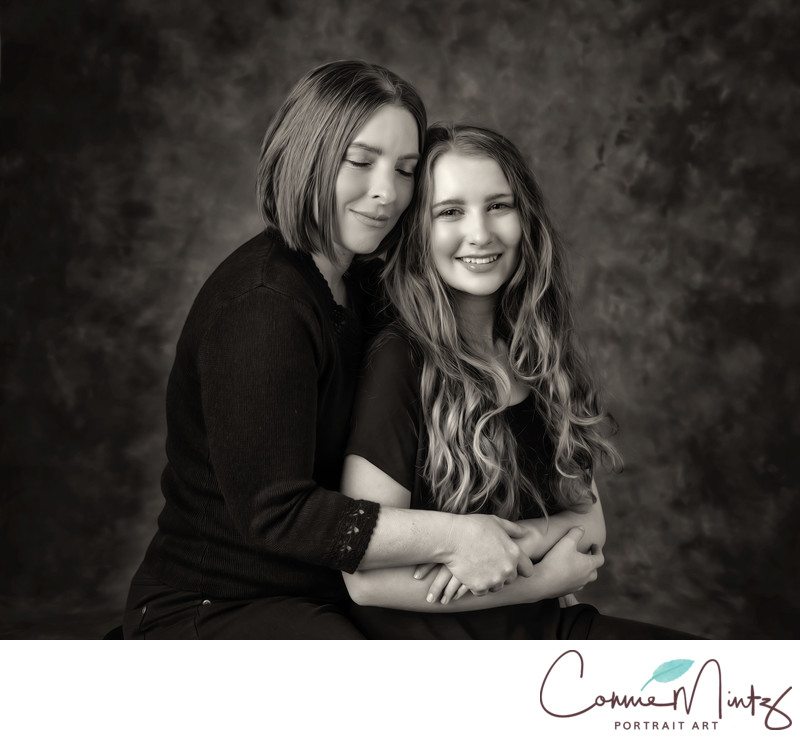 General Studio Guidelines
• Please make sure everyone has eaten before the session (including men and adult children). We have found that when families are hungry, the sparkle in their eyes for their portraits isn't quite as bright.
• Please don't bribe children, even teenagers. This can change attitudes and make it difficult for little ones to get through the session because they are so focused on the bribe. Families who bribe their children may lose 20-30 minutes of happy children for their session time.
• Ensure ever gets a haircut and trim to your liking. This is just a bug in your ear to make sure you have time to schedule appointments if your session is off-schedule with his haircuts.
• Women should do their hair and makeup like they normally do, or a little bit more. Please arrive with hair and makeup complete. We do find many of our clients choose to have their makeup finished professionally to add to the portrait experience this is just a bug in your ear to make sure you have timeto schedule an appointment if you would like to do this. If you are having professional hair and makeup do allow plenty of time so you are not running late. If needed, please ask us for salon recommendations.
• No Bronzers or self tanners or glittery, sparkly makeup.
• Make-up should be clean and natural and matte. Bring extra powder foundation to control shine.
• Avoid frosts or overly-bright colors
Summary of the Process:
• Be on time, ready to go for the session. The time we lose to lateness or changing clothing is taken out of your session time. Makeup and hair should be complete prior to arriving. As everyone arrives dressed, no need to worry about wrinkles. Our amazing artist can make adjustments to remove wrinkles.
• We will start the session with you right away. Please remember we have reserved 2.5 hours for you and your family, for both your session and ordering appointment.
• Once your session is complete, you will be able to relax in our ordering room while we download your images.
• Then you will have your ordering appointment, where we will walk you through choosing images and making final selections. Remember, we will likely provide bonuses exclusively at that appointment, so make sure you and your husband are ready to finalize your order at that time. Dads like to know ahead of time that this is the time you will make all of your final decisions so they aren't surprised, so please make sure to share that with him.
As a reminder, I need a couple of things from you:
• Images of three walls in your home. We will be emailing you a direct link with the instructions for taking and uploading your room views.
• We'd love to see what you are planning for clothing before the session. We enjoy helping with clothing choices. Feel free to email us or text us your clothing choices. It's best to lay everything out on a bed and take a snapshot of all the clothes together. If you squint your eyes, everthing should just look even. If something is popping out from the rest, chances are they are too bright or not in the same tones as the other items.
Thank you!
Connie Mintz Portraits
Vancouver Washington Portrait Photographer • mail@conniemintz.com • Phone/Text: (971) 266-1861 • 300 East 13th, Suite 103 Vancouver, WA 98660 • All written, design, and photographic content • Copyright ©2020 Connie Mintz Portraits • All rights reserved, do not copy, download, or reproduce.